Market Analysis & Strategic Development
The usage of Specialty Cellulose (by opposition to paper pulp) started to regain momentum in 2005. Since then various events such as the entry of China as a major supplier of Viscose Staple Fibers, the cotton crisis in 2010/2011, the conversion of numerous paper pulp mills to Dissolving Wood pulp (DWP) have led the DWP capacity to grow pretty much uninterrupted at a pretty fast pace.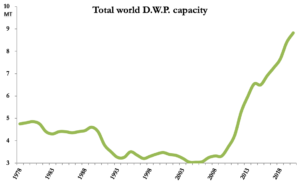 The Supply and demand of D.W.P. can be split between Viscose pulp grades and specialty DWP grades (Acetate, Ether, MCC, Cellophane, nitration, sausage casings, tyrecord, sponge, car filters). Both segments have witnessed very different dynamics and challenges as many independent industry drivers impact the cellulose industry.
CelCo can help you analyze current and futur market dynamics thanks to Celco unique supply & demand data base and market intel.  The key feature of its database (volume and prices by supplier and buyers)stems from a consolidation year after year "Bottom-up" (and not "Top-down") that allows a deep granularity for analysis of each market segment.
We consult with following clients:
Investors :
Financial analysts
Private equity for investment or M&A of business
 Manufacturers looking for vertical integration and or business consolidation .
Manufacturers :
Manufacturers of specialty cellulose looking for product mix optimization, supply and demand market update, consolidation or M&A of their business.
Cellulose pulp suppliers both wood and cotton linters pulp in marketing their production.
Paper pulp manufacturers to evaluate and switch to D.W.P.
Cellulose sourcing: Buyers looking for supply and demand market update, improve their sourcing strategies , potential vertical integration and lowering their cost.
To inquire about ad hoc market analysis please contact us at info@celco.ch