Conference 2018
Now open for Early Bird Registration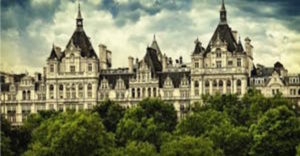 The " Investing in Cellulose-2018" conference will take place on
November 5th 2018 in London
*
at the Royal Horse Guard Hotel, Whitehall, SW1A 2EJ
You are invited to benefit from early registration prices and to guarantee your place to join us and learn about the latest cellulose market trends and to network with the entire cellulose value chain. This year's focus will be on the viscose industry; the world is changing fast with continued viscose environmental discussions, trade tariff negotiations, "war on plastics", world cotton supply mix reshuffling and wood chips supply challenges.
To help us build and deliver our long-term vision we are pleased to announce the participation of these exceptional speakers, already confirmed to attend:
Bruna Angel (PCI Wood Mackenzie) returns by popular demand and will discuss the current and future world cotton outlook. 
Hakan Ekstrom (WRI) will help us better understand the supply and demand dynamics of wood and wood chip supply across the globe.
Stefan Doboczky , Lenzing CEO and Aditya Birla

will share their companies' vision, as well as their views of the viscose industry outlook, while underlying the importance of sustainability across the entire value chain.

We will also be joined by speakers from

Andritz

and

Bozzetto

who will cover the more technical topics including new bioproducts & biorefinery mills and ……. respectively

. 

And

The CCF Group

will address the China Viscose and DWP outlook, the future of the ongoing China Antidumping action while

CelCo

will review the world DWP Supply & Demand.
All participants arriving on Sunday November 4th are warmly invited to join us at the Welcome Cocktail Reception held in the historical Churchill's Bar at our venue, between the hours of 6pm and 8pm, to meet with your fellow delegates and speakers.
* From 8:30pm till 4:30pm with coffee breaks mid morning and afternoon and 2 hours lunch break